In every group of siblings, there needs to be one who is easygoing. That's Sushi for you, folks. There is almost nothing in this world that can rattle this little man, other than when his siblings try to steal his food because he eats slowly. Will you defend him from food nabbers? Read on to learn more!
Sushi
Male | ~4.5 months | DSH | Orange and white tabby w/ mostly white on face and orange blob on back.
Good with adults?
Yes.
Good with Children?
Yes, so long as they respect his boundaries.
Good with other cats?
Yes. He loves other felines!
Good with dogs?
Never been exposed.
Litter-trained?
Yes.
Fixed and Vaccinated?
Yes.
Any known medical conditions?
No.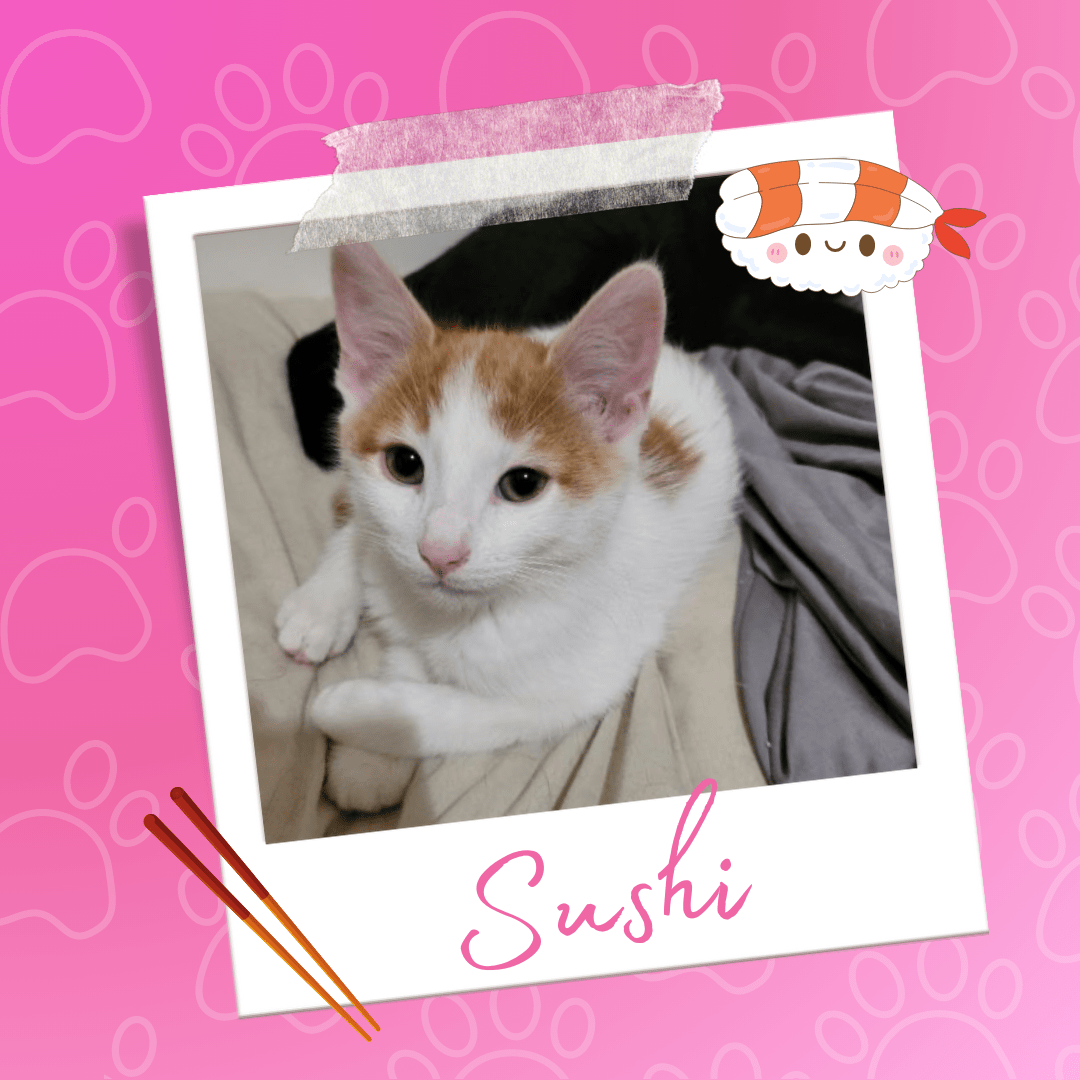 *** Please note that we are NOT accepting applications for the cats listed as Coming Soon. These cats have either yet to arrive or have only just recently arrived. Once their foster families get to know them a little better, a detailed bio outlining their personality and describing their ideal home will be posted and we will then begin accepting applications for them. ***
About Sushi
Guess who? It's me - Sushi! I am an adoptable kitten here at Pets Alive Niagara in search of my furever home.

My foster mom often remarks on how fearless I am. Nothing can rattle me, other than when my siblings try to steal my food. It is not my fault that I am a slow eater. I just like to enjoy the food I eat instead of gobbling it down. I will need my furever family to be willing to protect me during meal time.

I am a very laid back boy and easily the most easy-going cat out of my siblings and I. This makes me a purrfect companion for all ages and species: children, adults, cats,  - you name it!

I love to cuddle. I could snuggle up with my hoomans all day. There is something so comforting about the warmth and security that comes from being held by a human. 

I would thrive in an active household with any humans of any age, cats and potentially dogs. Having an animal friend would be great, but so long as my humans are able to keep up with the life of a growing kitten, then I can adapt.


Sushi's Adoption Fee | $149.00
The feline adoption fees help cover the costs associated with rescuing, such as vetting, food, kitty litter and other expenses.
Prior to adoption, cats are spayed/neutered, vaccinated, microchipped, dewormed and given flea treatment. In short, they receive any necessary treatment. 
For more information about adoption fees, please review our Adoption FAQs & Fees page. Alternatively, you can email us and communicate with our Adoption Coordinator.
Why We Love Fostering
We love fostering because the dogs bring so much love and joy into our home. Seeing them adjust to life in a home, come out of their shells and become their happy, playful selves is so rewarding. It's also a great feeling so see them got adopted by a home that will love them forever. The foster dogs also have a lot to teach us about resilience, adaptability, trust and unconditional love. They inspire us to be better versions of ourselves. If they can survive their histories while still being loving and happy, so can we.
Interested in Adopting Sushi? Apply Below.
Incomplete applications cannot be accepted. Pets Alive Niagara reserves the right to reject any application and reserves the sole right in determining the best placement for our animals.
PLEASE NOTE: WE CANNOT APPROVE ADOPTIONS TO APPLICANTS THAT LIVE OUTSIDE OF CANADA.


We want to thank everyone who applied to adopt!  We have closed this application, but we do have other great pets looking for a forever home, click here to meet them!