Peanut
Male | ~4.5 months | DSH | Orange and white tabby w/ mostly white on face
Good with adults?
Yes.
Good with Children?
Yes, so long as they respect his boundaries.
Good with other cats?
Yes. He loves other felines!
Good with dogs?
Never been exposed.
Litter-trained?
Yes.
Fixed and Vaccinated?
Yes.
Any known medical conditions?
No.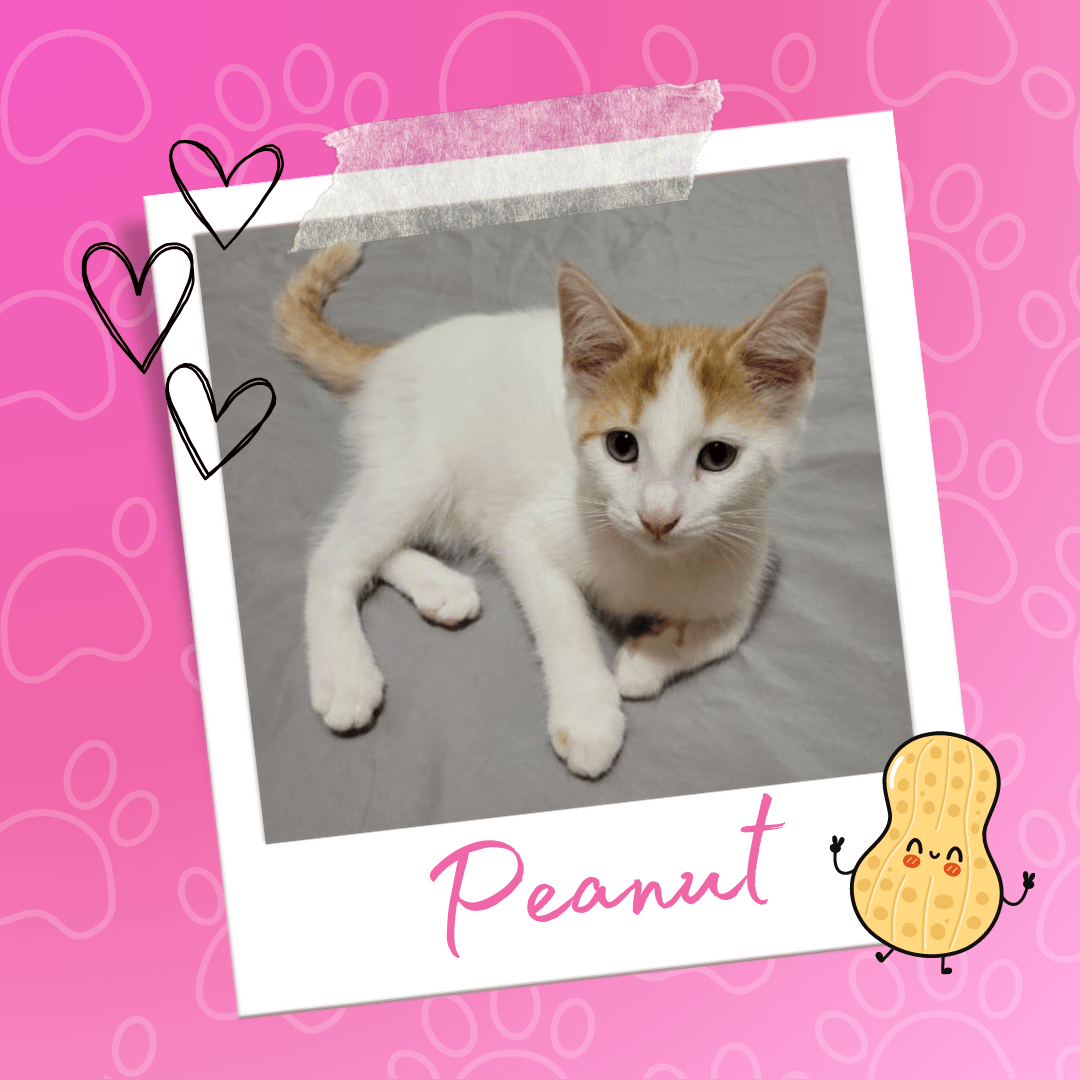 *** Please note that we are NOT accepting applications for the cats listed as Coming Soon. These cats have either yet to arrive or have only just recently arrived. Once their foster families get to know them a little better, a detailed bio outlining their personality and describing their ideal home will be posted and we will then begin accepting applications for them. ***
About Peanut
Whether you love or hate peanuts, everyone will make an exception for me! Meowllo, I'm Peanut (obviously) and I am a sweet, not-so-nutty kitten in search of my furever home.

Lovable and sweet are my middle names. I love to jump on the bed and get pets from my foster family, so hopefully my furever family won't mind sharing some space.

I have a habit of kneading blankets while holding them in my mouth.. Yes, I know, it sounds weird, but my foster mom thinks it is super cute. I usually go for fuzzy blankets, so purrhaps my furever family can spare a few, or pick one up for me!

Another entertaining thing I do is chase Swiffer mops. We have a love-hate relationship. So if you pull one out and you hear paws creeping up, it is just me planning my attack!

I can tolerate being picked up, so long as I am put down shortly after. I am brave enough for only so much flying.

I would thrive in any sort of household. I am good with children, cats and dogs! I do have a particular love for cats, though, so a feline companion would be great. In fact, they may help my purrsonality continue to flourish.


Peanut's Adoption Fee | $149.00
The feline adoption fees help cover the costs associated with rescuing, such as vetting, food, kitty litter and other expenses.
Prior to adoption, cats are spayed/neutered, vaccinated, microchipped, dewormed and given flea treatment. In short, they receive any necessary treatment. 
For more information about adoption fees, please review our Adoption FAQs & Fees page. Alternatively, you can email us and communicate with our Adoption Coordinator.
Why We Love Fostering
I love fostering because I get to change the lives of the dogs I welcome into my home. I get to treat them like my own while knowing they get a chance at a great life. It feels great to be able to provide them with a stepping stone towards their new life with a new family and new friends. Even when they go, I never feel sadness. I only feel happiness because I know they will be loved as much as i loved them. (For Kappy: Though your time was short with me, you inspired me to help other dogs. 🥹)
Interested in Adopting Peanut? Apply Below.
Incomplete applications cannot be accepted. Pets Alive Niagara reserves the right to reject any application and reserves the sole right in determining the best placement for our animals.
PLEASE NOTE: WE CANNOT APPROVE ADOPTIONS TO APPLICANTS THAT LIVE OUTSIDE OF CANADA.


We want to thank everyone who applied to adopt!  We have closed this application, but we do have other great pets looking for a forever home, click here to meet them!