Moon
Male | ~4.5 months | DSH | Black tabby
Good with adults?
Yes.
Good with Children?
Yes, so long as they respect his boundaries.
Good with other cats?
Yes. He loves other felines!
Good with dogs?
Never been exposed.
Litter-trained?
Yes.
Fixed and Vaccinated?
Yes.
Any known medical conditions?
No.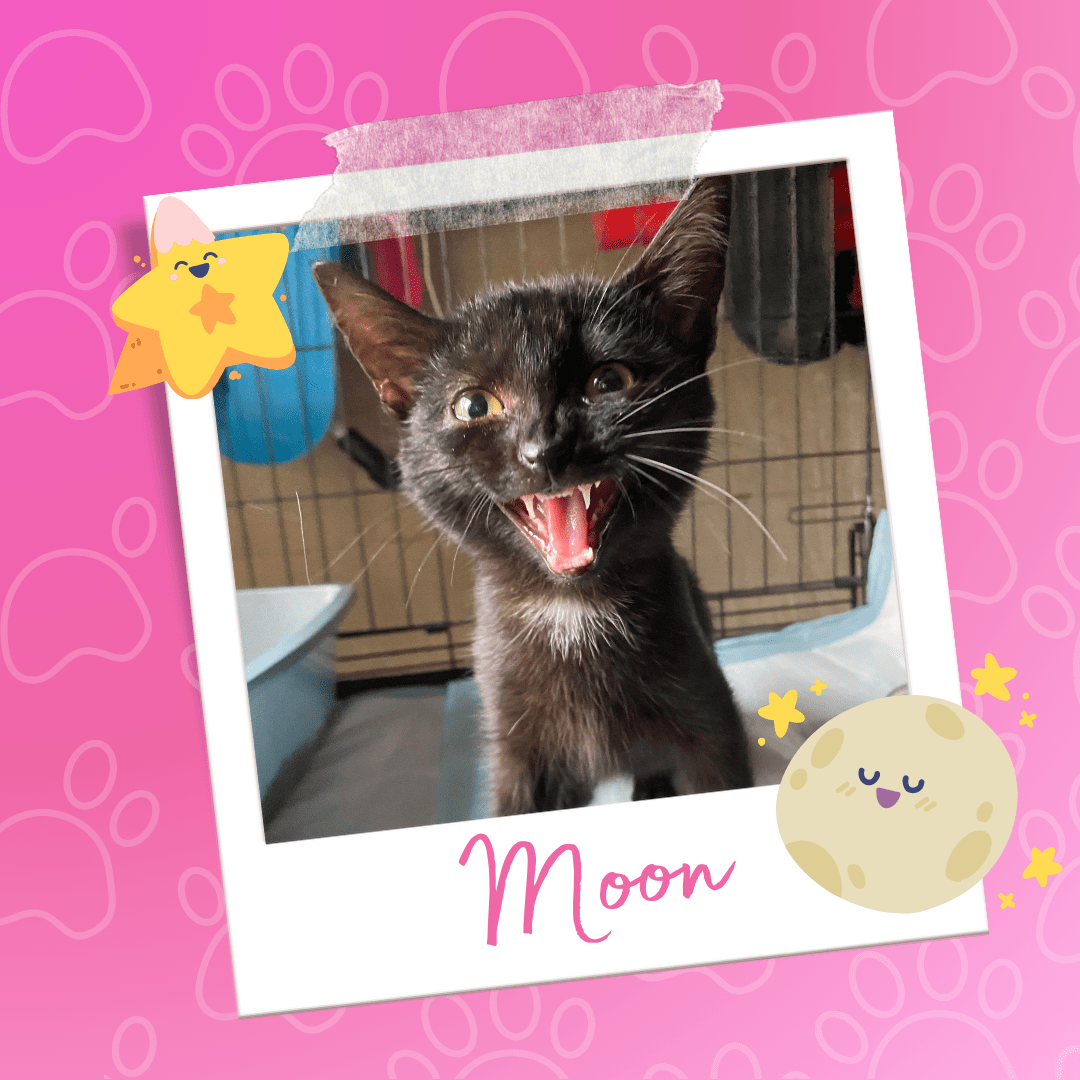 *** Please note that we are NOT accepting applications for the cats listed as Coming Soon. These cats have either yet to arrive or have only just recently arrived. Once their foster families get to know them a little better, a detailed bio outlining their personality and describing their ideal home will be posted and we will then begin accepting applications for them. ***
About Moon
Meowllo, everyone! My name is Moon and I am in search of my furever home.

You may be wondering, "Moon, why are you not orange and white like your siblings?" The answer is quite simple: I am a bonus sibling. 

See, I was found outside all alone - no mom, no family, no anyone - and my foster pawrents offered to merge me with their family of kittens! They have accepted me as a brother and it has been the best thing to ever happen to me.

I am louuuud boy when I want to be. My profile photo is proof of that. I was letting out a big meow and the nice lady behind the camera managed to capture it. When I am not demanding something, I have a soft little meow. The one thing that remains consistent in noise volume is my purr. It is very loud all the time. My foster mom says it is soothing.

I love to snuggle, but only on the couch. I am not brave enough to hop on the bed. I think it's because it's quite tall and I am quite small, but it is something I am working on. 

My siblings and I spend our free time playing together. I am usually the one who initiates the fun, as I have a ton of energy! They sometimes can't keep up, but that's ok. I can entertain myself with the right toys!

One thing to note is that I get overstimulated very easily when being pet for long periods of time. It all feels so nice, then suddenly it starts to feel like too much. I will let you know when that happens, though.

I would thrive in an active household, preferably with a feline friend to keep me company. I am indifferent about children and would spend time with them so long as they are nice to me!

If you are interested in adopting me, you can fill out the application below!


Moon's Adoption Fee | $149.00
The feline adoption fees help cover the costs associated with rescuing, such as vetting, food, kitty litter and other expenses.
Prior to adoption, cats are spayed/neutered, vaccinated, microchipped, dewormed and given flea treatment. In short, they receive any necessary treatment. 
For more information about adoption fees, please review our Adoption FAQs & Fees page. Alternatively, you can email us and communicate with our Adoption Coordinator.
Why We Love Fostering
I grew up in an apartment where no pets were allowed. When I met my husband, he had a beautiful boy cat named Webster. He was such a good boy, he was so sweet and always sat between my legs. I treated him like my own. I had never felt the unconditional love that he gave me. When he passed away, I decided I wanted to give my love to cats unconditionally. My husband and my daughter agreed to be a foster family for kitties who needed help. I can't imagine a life or a home without cats in it.
Interested in Adopting Moon? Apply Below.
Incomplete applications cannot be accepted. Pets Alive Niagara reserves the right to reject any application and reserves the sole right in determining the best placement for our animals.
PLEASE NOTE: WE CANNOT APPROVE ADOPTIONS TO APPLICANTS THAT LIVE OUTSIDE OF CANADA.


We want to thank everyone who applied to adopt!  We have closed this application, but we do have other great pets looking for a forever home, click here to meet them!