We want to thank everyone who applied to adopt!  We have closed this application, but we do have other great pets looking for a forever home, click here to meet them!
Pumpkin
Female | ~3 years | DSH | Torbie
Good with adults?
Yes.
Good with Children?
Not tested, but likely ok so long as they are calm and respectful.
Good with other cats?
Yes.
Good with dogs?
Yes.
Litter-trained?
Yes.
Fixed and Vaccinated?
Yes.
Any known medical conditions?
Pumpkin has diabetes that is being managed by a special diet.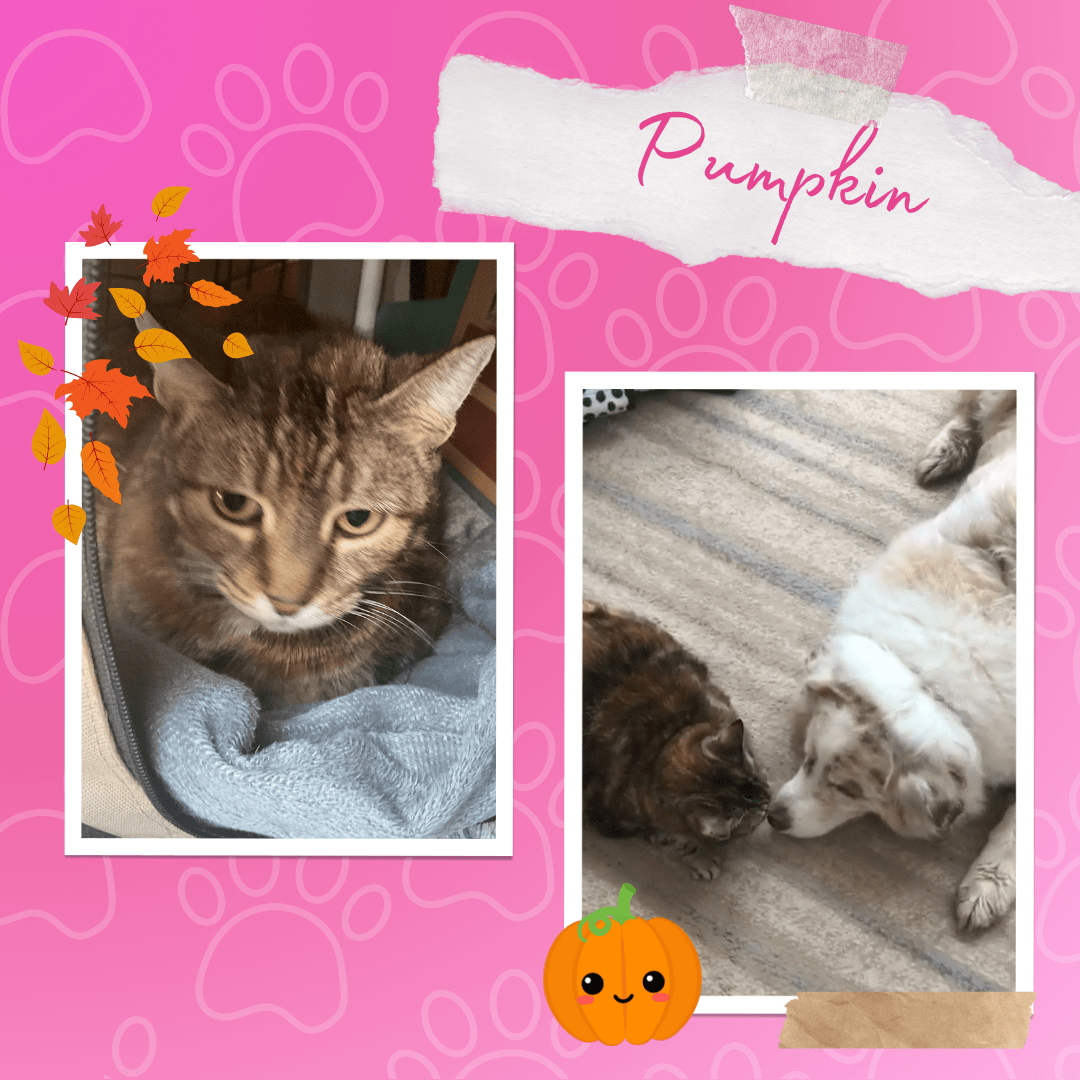 *** Please note that we are NOT accepting applications for the cats listed as Coming Soon. These cats have either yet to arrive or have only just recently arrived. Once their foster families get to know them a little better, a detailed bio outlining their personality and describing their ideal home will be posted and we will then begin accepting applications for them. ***
Pumpkin's Bio
Hi there! My name is Pumpkin and I am in search of my furever home.

I have a bit of a tragic backstory. I was dumped at a veterinarian's office by my previous owner in terrible condition. I was in severe pain, hyperglycemic from my untreated diabetes, and overweight.  Because of all of this, the humans here at Pets Alive Niagara spent a long time getting me back into good enough shape to be adopted out to a loving family.

Because of my painful past, I am more on the submissive and quiet side, as I am still learning to trust humans again. But despite this, I am super affectionate and love to cuddle once I get to know you. 

I love other animals and would definitely benefit from having  that sort-of companionship. Supervision will especially be necessary, since I am less likely to speak up if I'm being treated unfairly. 

Since I am diabetic, I am on a special diet to both help me lose weight and keep my blood sugar leveled out. I cannot have regular cat food, so I must be fed separately from any animal friends. I am not on insulin at this time, but my family will be asked to book an appointment for me with their veterinarian immediately in order to discuss monitoring my blood sugar at home via blood tests.

I would thrive in a home with a family that is calmer with lots of love to provide me with, and one that is able to take all the necessary steps to keep my diabetes under moderation.




Pumpkin's Adoption Fee | $149.00
The feline adoption fees help cover the costs associated with rescuing, such as vetting, food, kitty litter and other expenses.
Prior to adoption, cats are spayed/neutered, vaccinated, microchipped, dewormed and given flea treatment. In short, they receive any necessary treatment. 
For more information about adoption fees, please review our Adoption FAQs & Fees page. Alternatively, you can email us and communicate with our Adoption Coordinator.
Interested in Adopting Pumpkin? Apply Below.
Incomplete applications cannot be accepted. Pets Alive Niagara reserves the right to reject any application and reserves the sole right in determining the best placement for our animals.
PLEASE NOTE: WE CANNOT APPROVE ADOPTIONS TO APPLICANTS THAT LIVE OUTSIDE OF CANADA.


Why We Love Fostering
The thought of cats and kittens missing out on a loving home is one big reason as to why I foster. I thoroughly enjoy watching homeless cats go from being afraid of their own shadow, to throwing themselves at you with all their pent up love. It is so hard to see the cats/kittens leave once they are ready, but knowing someone has adopted a once abandoned sweetheart is the best feeling ever.