We want to thank everyone who applied to adopt! We have closed this application, but we do have other great pets looking for a forever home, click here to meet them!
Blondie
Female |4 yrs | 32 lbs | Shepherd Mix
Good with adults?
Yes
Good with kids?
Yes
Good with other dogs?
Yes
Good with cats?
Not Sure
House trained?
Yes
Crate Trained?
Yes
Energy Level?
Medium
Barker?
On occasion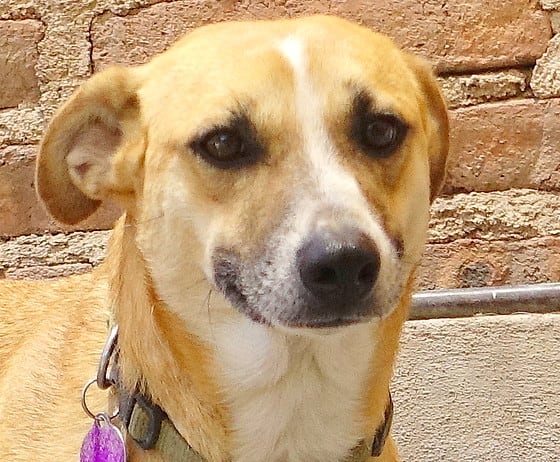 About Blondie
Blondie is a delightful Shepherd mix from Mexico. This 4-year-old is a true sweetheart and is good with adults, kids, and other dogs, making her a perfect fit for a loving family. Blondie's polite demeanour shines through in all her interactions.
When meeting new dogs, she takes a moment to inspect them before engaging in play. Speaking of playtime, she's lightning fast and agile, always up for a good wrestle with her canine friends once she feels comfortable with them. But her true specialty lies in meeting unfamiliar people. With very little hesitation, she approaches them, allowing pets, and even offering a gentle little kiss. With children, she's equally gentle, accepting pets with a wag of her tail before gracefully walking away.
Blondie is a well-behaved dog who is potty trained and enjoys spending time in her crate. She's as quiet as a mouse and appreciates having her own space for relaxation and peaceful naps. While she hasn't shown much interest in toys yet, she'll be more than happy to join you in any activity you have in mind.
While walking on a lead, Blondie generally walks well, but her prey drive may be triggered by the sight of squirrels and rabbits. In those moments, she may pull on the lead and express her excitement with a joyful squeal (for this reason, a cat-free home might be best). Her foster mom says that she's "a bit of a prancer when she gets excited, which only adds to her charms."
Blondie's ideal home would be one where she can get plenty of attention and affection. If you have the time for long walks and enjoy giving love, she'll be your perfect companion. Being food driven, training will be a breeze, and you'll love watching her learn and grow. If you work from home, that's even better, as she loves having her humans around and would be thrilled to keep you company.
Blondie's sweet and well-mannered personality will melt your heart!
Adoption Fee | $500
Adoption fees help cover the costs associated with rescues, such as vetting, boarding and transportation.
They also cover spay/neuter, heartworm testing and treatment (if necessary), rabies and DHLPP vaccines, and microchip. 
For more information about adoption fees, please review our Adoption FAQs & Fees page.