We want to thank everyone who applied to adopt!  We have closed this application, but we do have other great pets looking for a forever home, click here to meet them!
Aramis & Athos
Males | ~6 months | DSHs | Brown tabbies
Good with adults?
Yes.
Good with Children?
Yes.
Good with other cats?
Yes.
Good with dogs?
Unknown.
Litter-trained?
Yes.
Fixed and Vaccinated?
Yes.
Any known medical conditions?
No.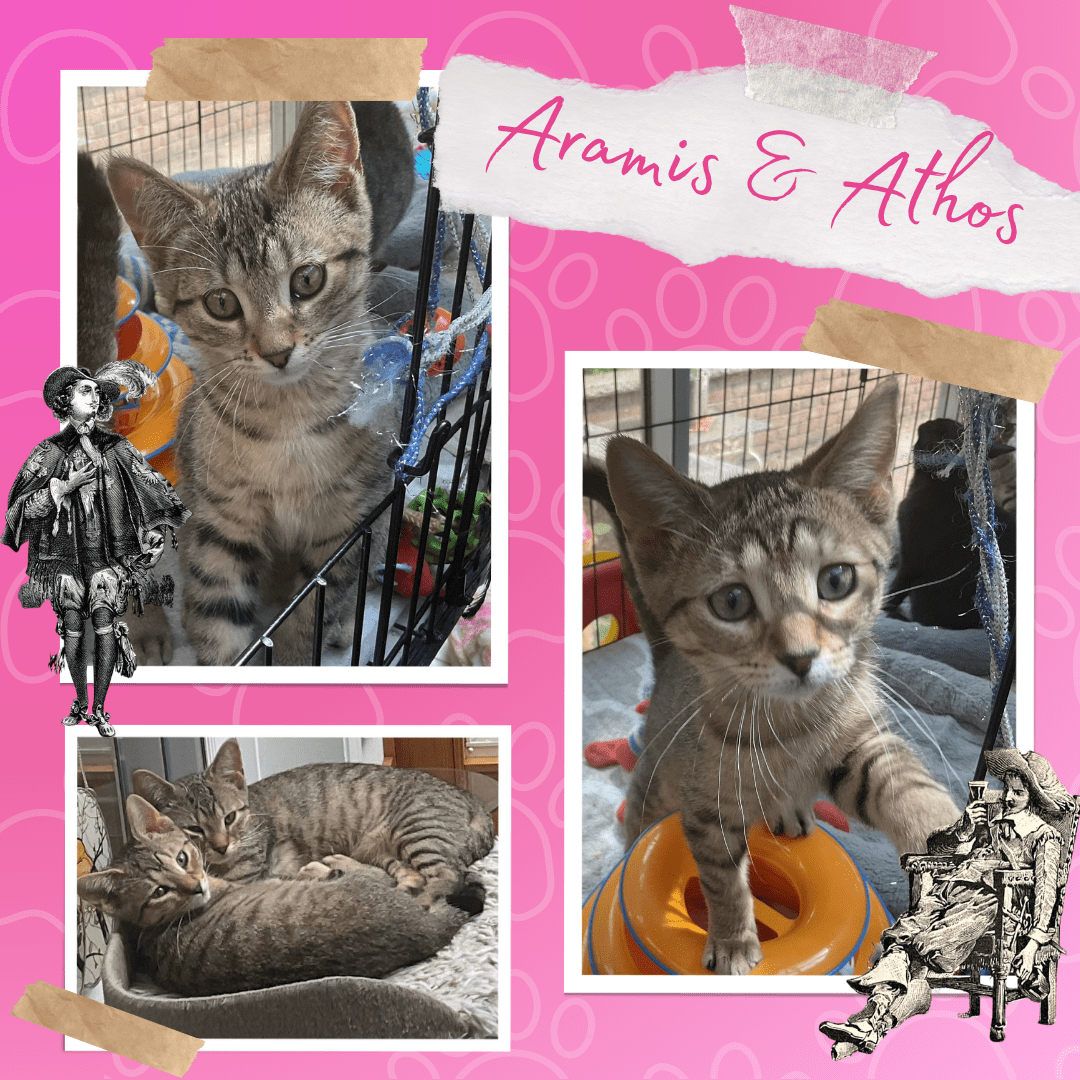 *** Please note that we are NOT accepting applications for the cats listed as Coming Soon. These cats have either yet to arrive or have only just recently arrived. Once their foster families get to know them a little better, a detailed bio outlining their personality and describing their ideal home will be posted and we will then begin accepting applications for them. ***
Aramis & Athos
Here I am, my friends. My name is Athos and alongside me is my brother, Aramis. We are a pair of musketeers in search of our furever home.

I am often described by my foster paw-rents as a friendly, cuddly little guy. I will often come up to you and ask (demand) belly rubs and a hug. 

Aramis, on the other hand, is definitely the goofier of the two of us. Oftentimes, he will put his toys into our water bowl. I assure him that his toys do not need to be rinsed every time he holds them, but alas, he still bathes them.

Together, we can play for hours; and if we are not playing, you can find us hanging out and taking it easy. So needless to say, you can confidently sell your television and cancel your streaming services, because we will provide you all the entertainment you desire and more.

*PLEASE NOTE THAT ARAMIS AND ATHOS ARE A BONDED PAIR AND THEREFORE UNDER NO CIRCUMSTANCES WILL WE SEPARATE THEM.*
Aramis and Athos' Adoption Fee | $225.00
The feline adoption fees help cover the costs associated with rescuing, such as vetting, food, kitty litter and other expenses.
Prior to adoption, cats are spayed/neutered, vaccinated, microchipped, dewormed and given flea treatment. In short, they receive any necessary treatment. 
For more information about adoption fees, please review our Adoption FAQs & Fees page. Alternatively, you can email us and communicate with our Adoption Coordinator.
Why We Love Fostering
The thought of cats and kittens missing out on a loving home is one big reason as to why I foster. I thoroughly enjoy watching homeless cats go from being afraid of their own shadow, to throwing themselves at you with all their pent up love. It is so hard to see the cats/kittens leave once they are ready, but knowing someone has adopted a once abandoned sweetheart is the best feeling ever.
Interested in Adopting Aramis and Athos? Apply Below.
Incomplete applications cannot be accepted. Pets Alive Niagara reserves the right to reject any application and reserves the sole right in determining the best placement for our animals.
PLEASE NOTE: WE CANNOT APPROVE ADOPTIONS TO APPLICANTS THAT LIVE OUTSIDE OF CANADA.