We want to thank everyone who applied to adopt!  We have closed this application, but we do have other great pets looking for a forever home, click here to meet them!
Leia and Padmé
Females | ~10 months | DSH | Smoky grey
Good with adults?
Yes
Good with Children?
Yes
Good with other cats?
Yes
Good with dogs?
No
Litter-trained?
Yes
Fixed and Vaccinated?
Yes
Any known medical conditions?
No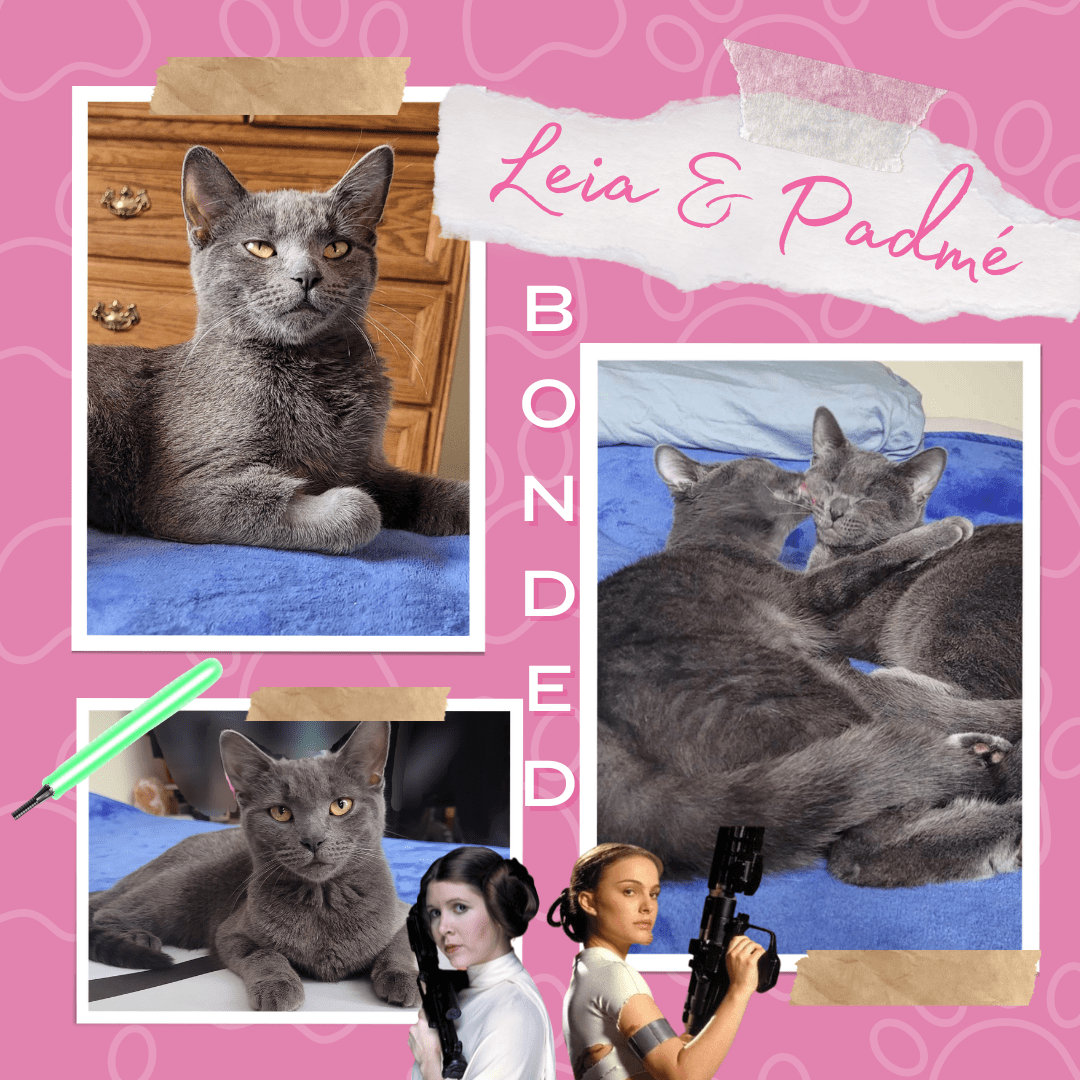 *** Please note that we are NOT accepting applications for the cats listed as Coming Soon. These cats have either yet to arrive or have only just recently arrived. Once their foster families get to know them a little better, a detailed bio outlining their personality and describing their ideal home will be posted and we will then begin accepting applications for them. ***
Leia and Padmé's Bio
Meowllo, big wide world! My name is Padmé and alongside me is my sister, Leia. We are a bonded pair in search of our furever home!


We were both rescued from negligence, but our foster paw-rents have ensured that we are healthy and  happy. Surprisingly, we are not *crazy* food-motivated, but we do enjoy mealtime. We don't particularly enjoy treats, either.


Leia is often described as quirky, floppy, and playful. She also has super soft fur, so you'll love petting her. Her fur is very smooth on my tongue, so I give her lots of baths! Out of the two of us, she is the most vocal. She loves to squeak rather than meow, and uses that to tell stories.


My foster paw-rents describe me as inquisitive, quiet and attention-seeking - but not in an annoying way. I just want your pets and hugs whenever you can provide them.


We love soaking up attention from our hoomans and being cuddled - especially in the afternoon. When we're not with them, we entertain ourselves by playing with anything on the ground, sleeping or watching birds and squirrels outside. We love to play with food that is sphere-shaped, like cherries, so if you drop one, chances are that it will be gone.


Overall, we are extremely lovable, friendly kittens. We would thrive in an active household with or without kids, and with or without other cats. Needless to say, we're quite adaptable and just happy to be with our people.


Please note that Leia and Padmé are a bonded pair, and therefore UNDER NO CIRCUMSTANCE WILL WE SEPARATE THEM.
Leia and Padmé's Adoption Fee | $225.00
The feline adoption fees help cover the costs associated with rescuing, such as vetting, food, kitty litter and other expenses.
Prior to adoption, cats are spayed/neutered, vaccinated, microchipped, dewormed and given flea treatment. In short, they receive any necessary treatment. 
For more information about adoption fees, please review our Adoption FAQs & Fees page. Alternatively, you can email us and communicate with our Adoption Coordinator.
Why We Love Fostering
Fostering is such a rewarding experience and works great for us as it is very flexible. We love seeing the difference in their personalities from day 1: from timid and nervous to a happy, healthy, better-socialized dog. It gives them time to decompress before going to their perfect home. Fostering enriches our lives knowing we are saving a life each time, and giving them a better life ahead. It warms the heart knowing you were part of this process.
Interested in Adopting Leia and Padmé? Apply Below.
Incomplete applications cannot be accepted. Pets Alive Niagara reserves the right to reject any application and reserves the sole right in determining the best placement for our animals.
PLEASE NOTE: WE CANNOT APPROVE ADOPTIONS TO APPLICANTS THAT LIVE OUTSIDE OF CANADA.