We want to thank everyone who applied to adopt Mars! He has found his furever home, but we still have other great pets looking for a forever home, click here to meet them!
Paging humans on Planet Earth, Mars is in search of a furever home! Read on to learn more about this out of the world kitty!
Mars
Male | ~4 months | DSH | Black tabby
Good with adults?
Yes
Good with Children?
Yes
Good with other cats?
Yes
Good with dogs?
Yes
Litter-trained?
Yes
Fixed and Vaccinated?
Yes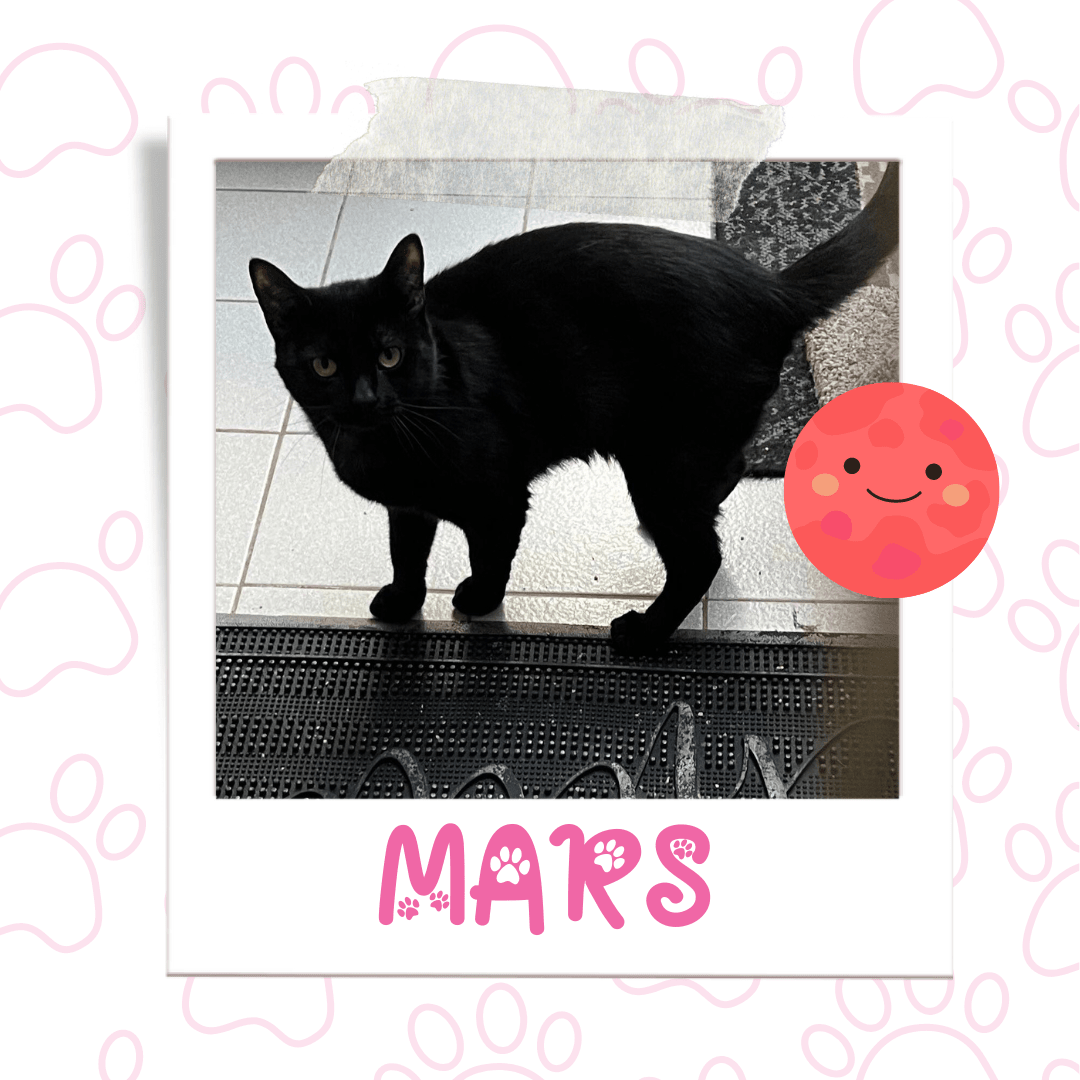 *** Please note that we are NOT accepting applications for the cats listed as Coming Soon. These cats have either yet to arrive or have only just recently arrived. Once their foster families get to know them a little better, a detailed bio outlining their personality and describing their ideal home will be posted and we will then begin accepting applications for them. ***
Mars' Bio
Meowllo, hoomans on Planet Earth! It's Mars here and I'm paging you from outer space. I need a furever home lined up for me before I return to Earth!
I am a lovable, cuddly little boy with lots of love to give. In fact, I am so affectionate that it surprised my foster family, due to the circumstances I faced prior to being rescued.
Unfortunately, my planet friends and I were rescued from a hoarding situation. We were in pretty rough shape when we first came home, but with lots of TLC and a loving foster family, we were able to recover and begin to thrive!
I love sunbathing and observing nature from indoors, so if you have a home with lots of windows, I will be a happy kitty! Alternatively, if you don't have many birds or squirrels that come to your yard, you could put on some CatTV!
As much as I would love to be adopted with one of my friends, I am ok with being adopted out alone - so long as I get plenty of attention, love and possibly a feline or canine friend already in the home!
Have you fallen in love with me? If so, you can submit an application to adopt me (with or without a sibling) below!
Mars' Adoption Fee | $149
The feline adoption fees help cover the costs associated with rescuing, such as vetting, food, kitty litter and other expenses.
Prior to adoption, cats are spayed/neutered, vaccinated, microchipped, dewormed and given flea treatment. In short, they receive any necessary treatment. 
For more information about adoption fees, please review our Adoption FAQs & Fees page. Alternatively, you can email us and communicate with our Adoption Coordinator.
Why We Love Fostering
Fostering opens you up to helping so many incredible animals. The dogs we have fostered all had different personalities, needs and quirks. We remember them all fondly. We love fostering because it is more flexible than most people would imagine. We can decide when to take a dog (so family vacations are easy to plan), what size (under 70lbs for us) and PAN is amazing at matching us with dogs that fit our needs.
Interested in Adopting Mars? Apply Below.
Incomplete applications cannot be accepted. Pets Alive Niagara reserves the right to reject any application and reserves the sole right in determining the best placement for our animals.
PLEASE NOTE: WE CANNOT APPROVE ADOPTIONS TO APPLICANTS THAT LIVE OUTSIDE OF CANADA.