We want to thank everyone who applied to adopt! We have closed this application, but we do have other great pets looking for a forever home, click here to meet them!
Maroma
Male | 1 yr | 31 lbs | Terrier Mix
Good with adults?
Yes
Good with kids?
Unknown
Good with other dogs?
Yes
Good with cats?
Unknown
House trained?
Yes
Crate Trained?
Yes
Energy Level?
Medium
Barker?
No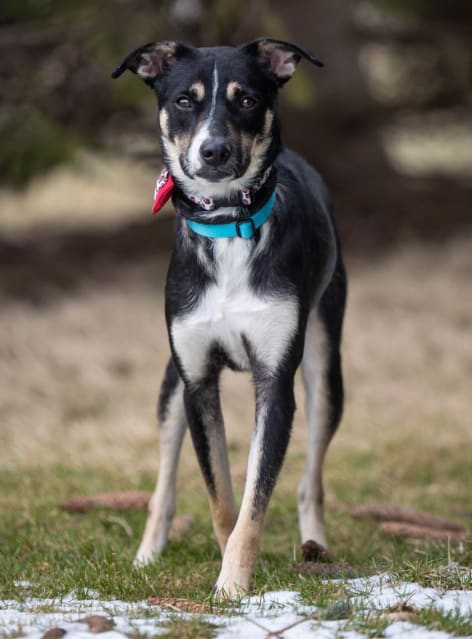 *** Please note that we are NOT accepting applications for the dogs listed as Coming Soon. These dogs have either yet to arrive or have only just recently arrived. Once their foster families get to know them a little better, a detailed bio outlining their personality and describing their ideal home will be posted and we will then begin accepting applications for them. ***
About Maroma
Maroma is a very sweet and handsome little guy who can dress up or down, depending on the occasion. He has an adorable underbite that makes for a great picture and his foster mom has even caught a smile or two when he gets very excited. He is working hard to acclimate to life in Canada since leaving the shelter in Mexico where he'd spent his entire life and has come a long way in the few months he has been here.
Maroma is coming out of his shell more each day and his puppy personality provides plenty of entertainment for his foster mom. He is just as happy cuddling on the couch as he is hanging out in his crate where he gently and lovingly gathers up toys, socks, mittens, or slippers to cuddle with and carries them into his little den.
As he has gradually become more comfortable in his foster home, his inquisitive and playful sides have really started to show – he's even getting a little bit naughty, sometimes acting just like a toddler! He is learning what it means to be a beloved indoor dog and responds well to correction and redirection. He walks well on a harness and leash but can get overwhelmed with too much stimulation and needs to be calmed down with a loving voice or quick cuddle.
On the whole, Maroma is fairly low maintenance, and his exercise needs are minimal.  He adores people watching from the kitchen window and has become the newest member of the neighbourhood watch in his foster mom's area. He loves being outside in warm weather and would be a wonderful companion to someone with a backyard or front porch to join them in watching the world go by.
Maroma would likely do well living with another dog who can help guide him on his path to adulthood and unleash his playful side. He adores other dogs and will freeze in place on walks so he can give his full attention to them as they walk by.
Maroma is very playful with his foster mom but will take some time warming up to new people, as he is skittish around those who haven't yet earned his trust; however, to those who have, he is incredibly loving and quirky and tries very hard to please. As Maroma gains more confidence, he will undoubtedly blossom into a loving, faithful companion!
Adoption Fee | $500
Adoption fees help cover the costs associated with rescues, such as vetting, boarding and transportation.
They also cover spay/neuter, heartworm testing and treatment (if necessary), rabies and DHLPP vaccines, and microchip.
For more information about adoption fees, please review our Adoption FAQs & Fees page.
Interested in Adopting Maroma? Apply Below.
Incomplete applications cannot be accepted. Pets Alive Niagara reserves the right to reject any application and reserves the sole right in determining the best placement for our animals.
PLEASE NOTE: WE CANNOT APPROVE ADOPTIONS TO APPLICANTS THAT LIVE OUTSIDE OF CANADA.