DHARMA AND TEDDY
Dharma: Female, Teddy: Male | ~5 months | DSH | Dharma: Grey tabby, Teddy: Brown tabby

- People-friendly? Shy at first, but quick to come around!

- Child-friendly? Unknown, but not recommended for small children due to Teddy's playful nibbles.

- Socialized with other animals? Some interaction with older cats and dogs.

- Litter-trained? Yes.

- Fixed? Yes.

- Purrsonality in a few words?

"Dharma is friendly, curious and playful; while Teddy is shy, playful and mischievous."

– Kaitlyn, Dharma and Teddy's foster mom 

- Any known medical conditions? No.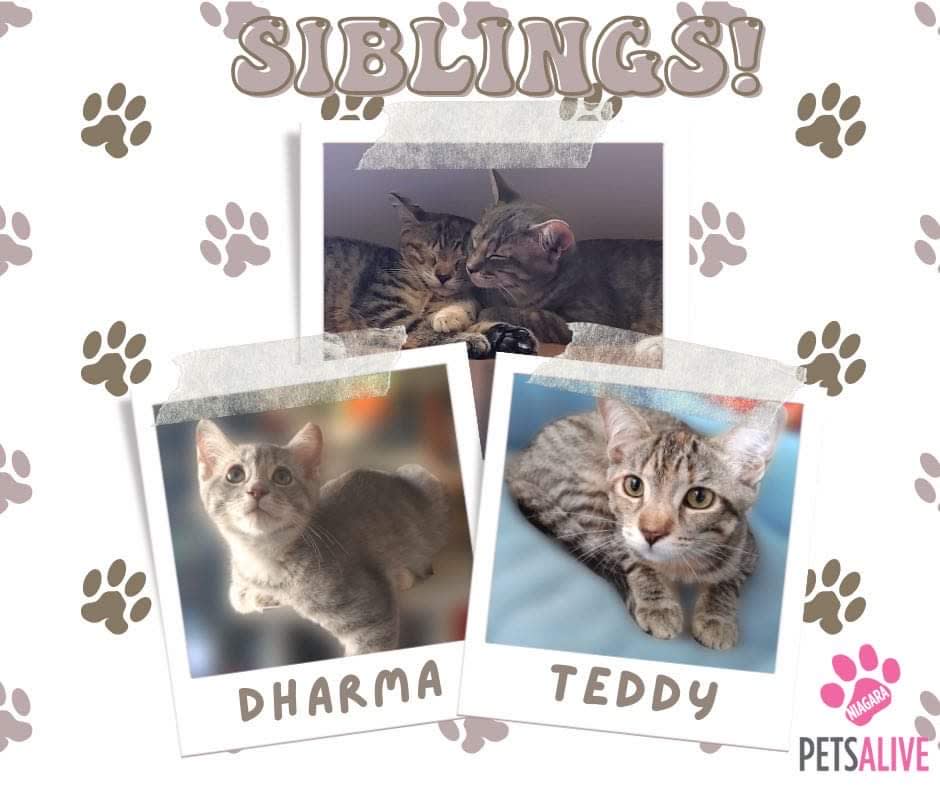 *** Please note that we are NOT accepting applications for the cats listed as Coming Soon. These cats have either yet to arrive or have only just recently arrived. Once their foster families get to know them a little better, a detailed bio outlining their personality and describing their ideal home will be posted and we will then begin accepting applications for them. ***
Meowllo, hoomans. We're Dharma and Teddy - a bonded pair of domestic short-haired kittens with purrsonalities like no others.

We were born as feral cats and lived the first couple months of our lives outside - until we

were rescued by Pets Alive Niagara back in May. Since then, we have been learning to live inside and enjoy pets and cuddles from our foster mom.

Although we lost our other siblings and our birth mom, Teddy and I have stuck together through everything. You can easily say that we are best buds. We spend every waking (and sleeping) moment together, and we know how to turn anything into a toy or game. We love our afternoon snoozes and LOTS of playtime!

We can't wait to find a furever home that will give us a cozy place to sleep and lots of space to run around and play! Maybe that will be with you.

Have we stolen your heart? If so, please feel free to apply to adopt us [below[g]/on our website via this link:][h][i]! ALL INQUIRIES REGARDING US MUST BE EMAILED TO petsalivecats@gmail.com.

Adoption Fee | $ 225 (Pair)

The feline adoption fees help cover the costs associated with rescuing, such as vetting, food, kitty litter and other expenses.

Prior to adoption, cats are spayed/neutered, vaccinated, microchipped, dewormed and given flea treatment. In short, they receive any necessary treatment. 
For more information about adoption fees, please review our Adoption FAQs & Fees page. alternatively, you can email us and communicate with our Adoption Coordinator: petsalivecats@gmail.com.
Why We Love Fostering
There is a special joy in seeing the transformation from fear to trust in a foster cat's face and posture, the first time they relax and warm up to me. There is so much comedy in a litter of crazy kittens, rollicking and tumbling, learning how to be big cats. Each foster kitty has been cared for as if they were my own, and I enjoy the confidence in the feeling that they are ready for their forever home. That is the biggest difference between choosing to adopt from a small rescue rather than a shelter, and why I love volunteering. People often ask me how I can be so strong to let such sweet kitties go to adoption, but the feeling that I have space to help another is worth the emotional goodbye. Penny is the twenty-first cat I have helped, and I am not going to stop anytime soon! Fostering for Pets Alive is by far the most rewarding volunteering I have ever done.
Why We Love Fostering
Fostering opens you up to helping so many incredible animals. The dogs we have fostered all had different personalities, needs and quirks. We remember them all fondly. We love fostering because it is more flexible than most people would imagine. We can decide when to take a dog (so family vacations are easy to plan), what size (under 70lbs for us) and PAN is amazing at matching us with dogs that fit our needs.
Interested in Adopting Dharma and Teddy? Apply Below.
Incomplete applications cannot be accepted. Pets Alive Niagara reserves the right to reject any application and reserves the sole right in determining the best placement for our animals.
PLEASE NOTE: WE CANNOT APPROVE ADOPTIONS TO APPLICANTS THAT LIVE OUTSIDE OF CANADA.


We want to thank everyone who applied to adopt!  We have closed this application, but we do have other great pets looking for a forever home, click here to meet them!