PRINCE
Male | ~4 months  | DSH | Brown tabby w/ subtle hints of white

- People-friendly? Yes, but is quite shy.

- Child-friendly? No exposure, but likely yes.

- Socialized with other animals? Fond of his siblings, but isn't totally comfortable with the foster dog.

- Litter-trained? Yes.

- Neutered? Yes.

- Purrsonality in a few words?

"Prince is so adorably loveable and is cautiously adventurous. He seems to be the thinker of the group but isn't afraid to join in the shenanigans."

– Erica, Prince's foster mom

- Any known medical conditions? No.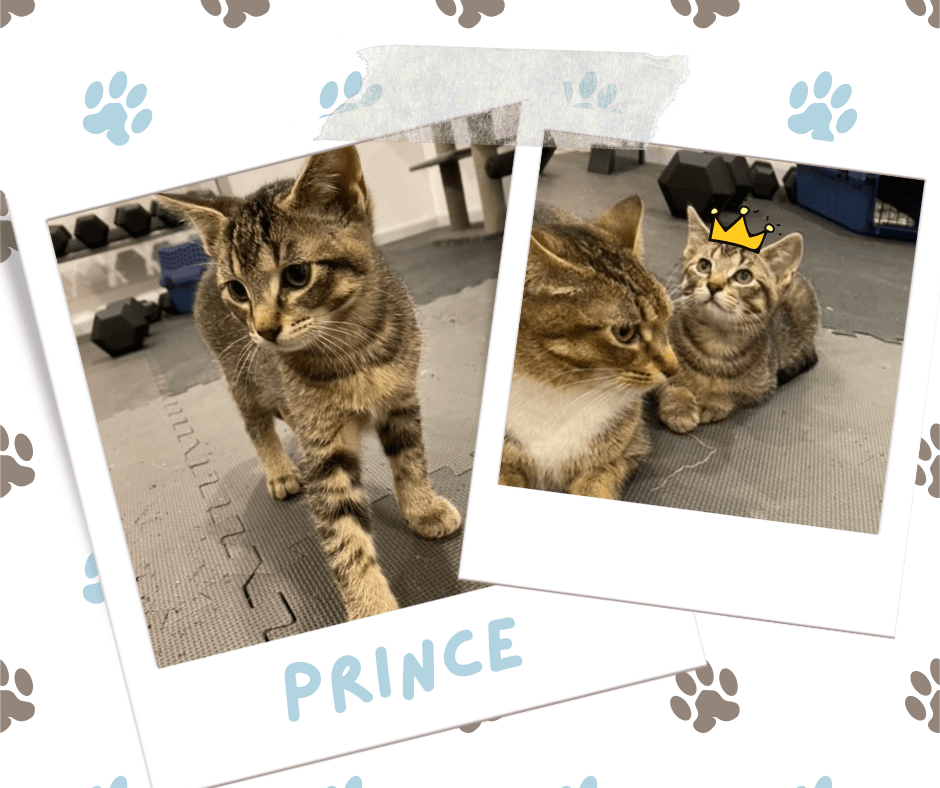 *** Please note that we are NOT accepting applications for the cats listed as Coming Soon. These cats have either yet to arrive or have only just recently arrived. Once their foster families get to know them a little better, a detailed bio outlining their personality and describing their ideal home will be posted and we will then begin accepting applications for them. ***
BIO:
Meowllo! My name is Prince. I am a ~4 month old domestic short-haired feline with three other brothers. Out of us, I am definitely the brains and observer. Once I determine whether or not something is safe for me to partake in, I won't hesitate to do so!

 

As described by my foster mommy, I am a sensitive wee man. I don't jump right into things, but I also love to explore my curiosity. In other words, I am a balanced mix of caution and adventure.

 

Fun fact: My foster mommy often gets my brother, Rocket, and I mixed up. She says it's because we look alike!

 

If you would like to be considered for the position of my furever family, you can apply to adopt me (with or without a sibling) below. All inquiries regarding me must be emailed to petsalivecats@gmail.com.

Adoption Fee | $ 149

The feline adoption fees help cover the costs associated with rescuing, such as vetting, food, kitty litter and other expenses.

Prior to adoption, cats are spayed/neutered, vaccinated, microchipped, dewormed and given flea treatment. In short, they receive any necessary treatment. 
For more information about adoption fees, please review our Adoption FAQs & Fees page. alternatively, you can email us and communicate with our Adoption Coordinator: petsalivecats@gmail.com.
Why We Love Fostering
There is a special joy in seeing the transformation from fear to trust in a foster cat's face and posture, the first time they relax and warm up to me. There is so much comedy in a litter of crazy kittens, rollicking and tumbling, learning how to be big cats. Each foster kitty has been cared for as if they were my own, and I enjoy the confidence in the feeling that they are ready for their forever home. That is the biggest difference between choosing to adopt from a small rescue rather than a shelter, and why I love volunteering. People often ask me how I can be so strong to let such sweet kitties go to adoption, but the feeling that I have space to help another is worth the emotional goodbye. Penny is the twenty-first cat I have helped, and I am not going to stop anytime soon! Fostering for Pets Alive is by far the most rewarding volunteering I have ever done.
Why We Love Fostering
I grew up in an apartment where no pets were allowed. When I met my husband, he had a beautiful boy cat named Webster. He was such a good boy, he was so sweet and always sat between my legs. I treated him like my own. I had never felt the unconditional love that he gave me. When he passed away, I decided I wanted to give my love to cats unconditionally. My husband and my daughter agreed to be a foster family for kitties who needed help. I can't imagine a life or a home without cats in it.
Interested in Adopting Prince? Apply Below.
Incomplete applications cannot be accepted. Pets Alive Niagara reserves the right to reject any application and reserves the sole right in determining the best placement for our animals.
PLEASE NOTE: WE CANNOT APPROVE ADOPTIONS TO APPLICANTS THAT LIVE OUTSIDE OF CANADA.


We want to thank everyone who applied to adopt!  We have closed this application, but we do have other great pets looking for a forever home, click here to meet them!