Milan is looking for her forever home!
Milan
Female | Approx 2yrs | 15lbs | Potcake
Good with adults?
Yes - see bio

Good with kids?
Older kids - 12 and over

Good with other dogs?
Yes - see bio

Good with cats?
No

House trained?
Yes 

Crate trained?
No

Energy Level?
Low

Barker?
On occasion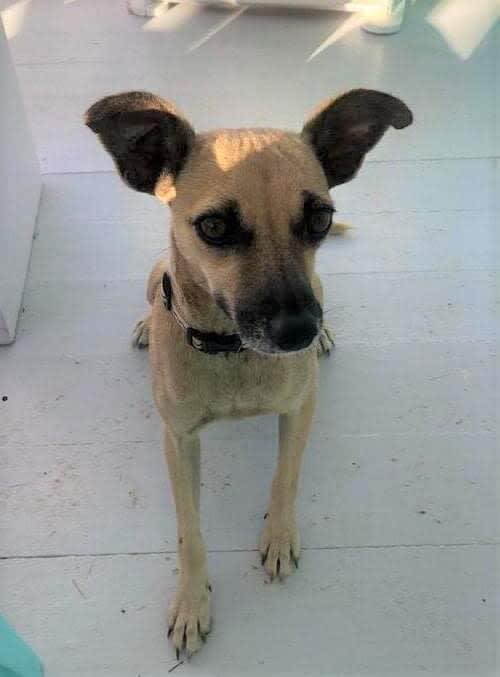 *** Please note that we are NOT accepting applications for the dogs listed as Coming Soon. These dogs have either yet to arrive or have only just recently arrived. Once their foster families get to know them a little better, a detailed bio outlining their personality and describing their ideal home will be posted and we will then begin accepting applications for them. ***
About Milan
Story from shelter in Barbados…

One of our volunteers found Milan loose on the streets in November 2021; so skinny, like a little skeleton. It was quickly obvious that she must have some puppies somewhere and a search of the area began. Eventually, with the help of Milan, they tracked the puppies to someone's house, and the conditions were deplorable. They managed to get the people to hand over her two puppies as well. It was touch and go for awhile for the puppies and for Milan as to whether they would make it. The puppies were 4 weeks old when rescued…able to eat a little bit of food. Milan had very little milk to nurture her babies when she was found – she was so starved.
Thankfully now she and her puppies are all doing fantastically well in a foster home. She is still quite timid and cautious, and understandably has some trust issues, but her underlying beautiful spirit shines through because in spite of it all she is still friendly and playful when she is ready, she barks when there is something to bark at but overall she is a sweet dog who just needs love and attention and patient owners that will let her get comfortable and learn to trust them, and when she does, its beautiful. A lovely girl who has been through a lot and deserves a rest and safe haven.
From Milan's Canadian foster…
Milan can be nervous and skittish around new people. It takes her a couple of days to warm up, but once she does, she's just a joy! Plays a little with toys and gets the zoomies at times, which is pretty cute!

It also takes Milan some time to get used to another dog. She's fearful of them, but if they give her some space, she eventually will come around to them. She may be best as the only dog as she can become overstimulated around them. 

She's not crate trained, but seems to do well free roam in the house. She will get into things though, so you must puppy-proof your home.

Milan is a lower energy dog that I've only heard bark twice. She has her energy spurts, but calms well. Noises and fast movements still make her jump, but over time, I expect she will blossom into a confident girl.
Adoption Fee | $500
Adoption fees help cover the costs associated with rescues, such as vetting, boarding and transportation.
They also cover spay/neuter, heartworm testing and treatment (if necessary), rabies and DHLPP vaccines, and microchip. 
For more information about adoption fees, please review our Adoption FAQs & Fees page.
Interested in Adopting Milan? Apply Below.
Incomplete applications cannot be accepted. Pets Alive Niagara reserves the right to reject any application and reserves the sole right in determining the best placement for our animals.
PLEASE NOTE: WE CANNOT APPROVE ADOPTIONS TO APPLICANTS THAT LIVE OUTSIDE OF CANADA.


We want to thank everyone who applied to adopt!  We have closed this application, but we do have other great pets looking for a forever home, click here to meet them!