Luneta
Female | 1.5 yrs | 23lbs| Terrier mix
Good with adults?
Yes

Good with kids?
Yes

Good with other dogs?
Yes

Good with cats?
Unknown

House trained?
80% - in training

Crate trained?
in training

Energy Level?
Medium

Barker?
No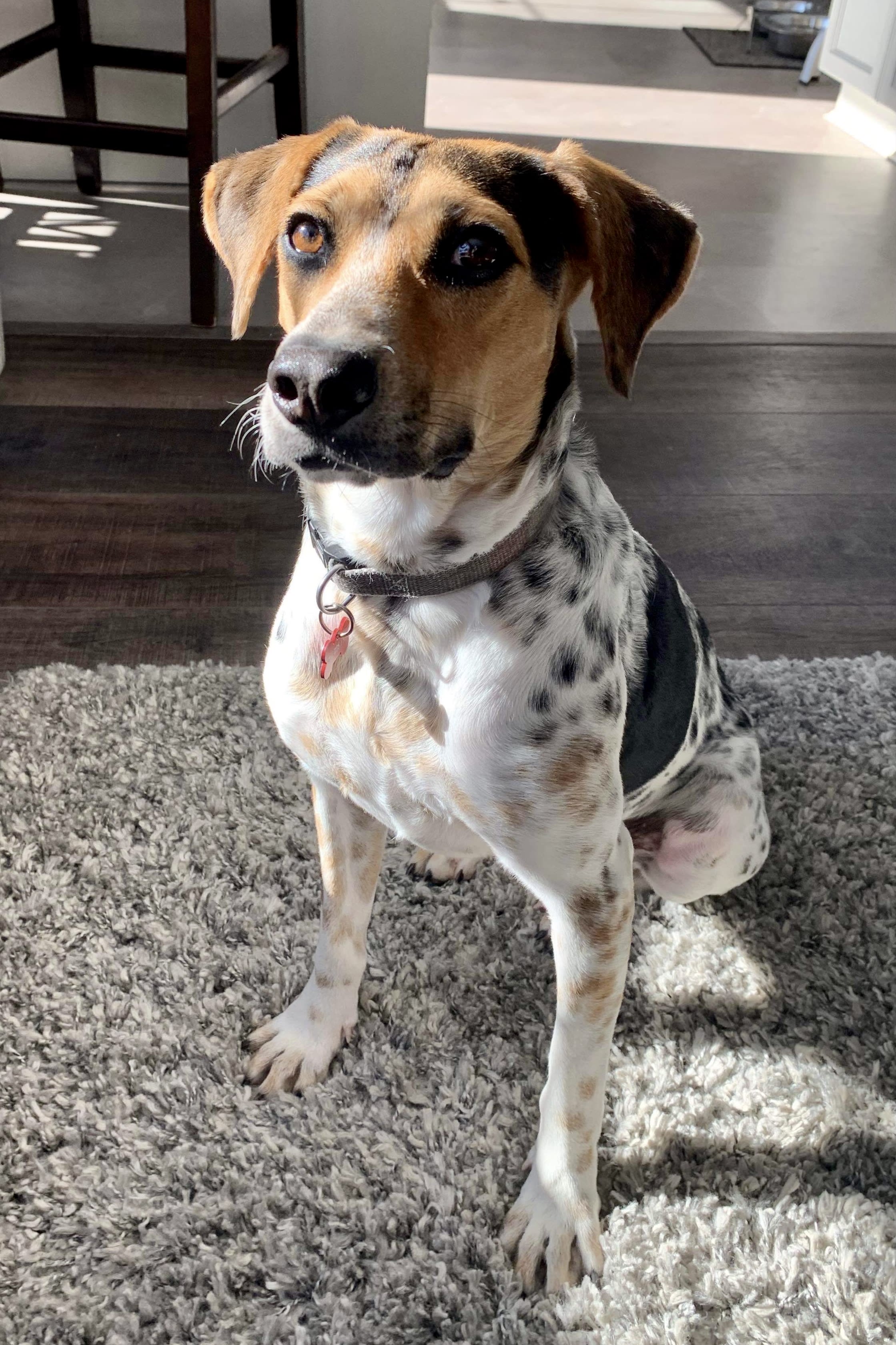 About Luneta
Who is looking to add the cutest, most unique-looking, super sweet pup in their life?!
Luneta was found wandering the streets when she was approximately a year old near the Mexican shelter. The owner of the shelter was able to get her before she would be hit by a car. She was malnourished and had skin issues, but she's recovered nicely. 

Luneta is a sweet, soft, playful, energetic, snuggle bug. She's smart and affectionate. She loves her food and treats and it helps with her training. She's been good with children ages 8+ but has not been seen with younger children.

Seems to thrive off having the attention of her foster brother, Charlie, and follows him around the house, outside to pee, looks to him when out on walks and first thing in the morning to play. We are uncertain how she would be without a doggie friend given she does so well with Charlie, including learning from him.

Lunta loves her people. She likes to give and receive kisses, likes hearing her name and at times jumps up simply to get us to sit down for a cuddle.

Has been great at sharing toys and food and although she continues to seem hungry and food-motivated she does not steal food while Charlie is eating. She's smart though and will coax him away with a toy so she can run over and eat out of his bowl.

Luneta is a happy pup, wags her tail often and comes running when you call her. She will jump up at you with excitement to say hello. She lays still for rubs and seeks attention and closeness regularly even intervening when our attention is being given to our Charlie. She doesn't growl or bark but instead pushes in between for her own scratches.

She's good on a leash and is working on being 100% house trained (she's about 80% now). Luneta would prefer being close to people rather then in a crate but does settle after some time.

Consider adding this amazing girl to your home! 
Adoption Fee | $500
Adoption fees help cover the costs associated with rescue, such as vetting, boarding, and transportation.

Prior to adoption, dogs are spayed/neutered, vaccinated, microchipped, and 4Dx tested, and they receive any necessary treatment. After adoption, they are eligible for one month of free pet insurance.
For more information about adoption fees, please review our Adoption FAQs & Fees page.
Why We Love Fostering
I love fostering because I get to change the lives of the dogs I welcome into my home. I get to treat them like my own while knowing they get a chance at a great life. It feels great to be able to provide them with a stepping stone towards their new life with a new family and new friends. Even when they go, I never feel sadness. I only feel happiness because I know they will be loved as much as i loved them. (For Kappy: Though your time was short with me, you inspired me to help other dogs. 🥹)
*** Please note that we are NOT accepting applications for the dogs listed as Coming Soon. These dogs have either yet to arrive or have only just recently arrived. Once their foster families get to know them a little better, a detailed bio outlining their personality and describing their ideal home will be posted and we will then begin accepting applications for them. ***
Interested in Adopting Luneta? Apply Below.
Incomplete applications cannot be accepted. Pets Alive Niagara reserves the right to reject any application and reserves the sole right in determining the best placement for our animals.
PLEASE NOTE: WE CANNOT APPROVE ADOPTIONS TO APPLICANTS THAT LIVE OUTSIDE OF CANADA.
We want to thank everyone who applied to adopt!  We have closed this application, but we do have other great pets looking for a forever home, click here to meet them!