Tila

Female |Adult - 5 yrs | DSH 

- People-friendly?  Yes

- Child-friendly?  No

- Socialized with other animals? Tolerates cats 

- Litter-trained? Yes

- Fixed? Spayed

- Purrsonality in a few words?  Laidback and can be playful, but mainly chill. 

- Any known medical conditions? No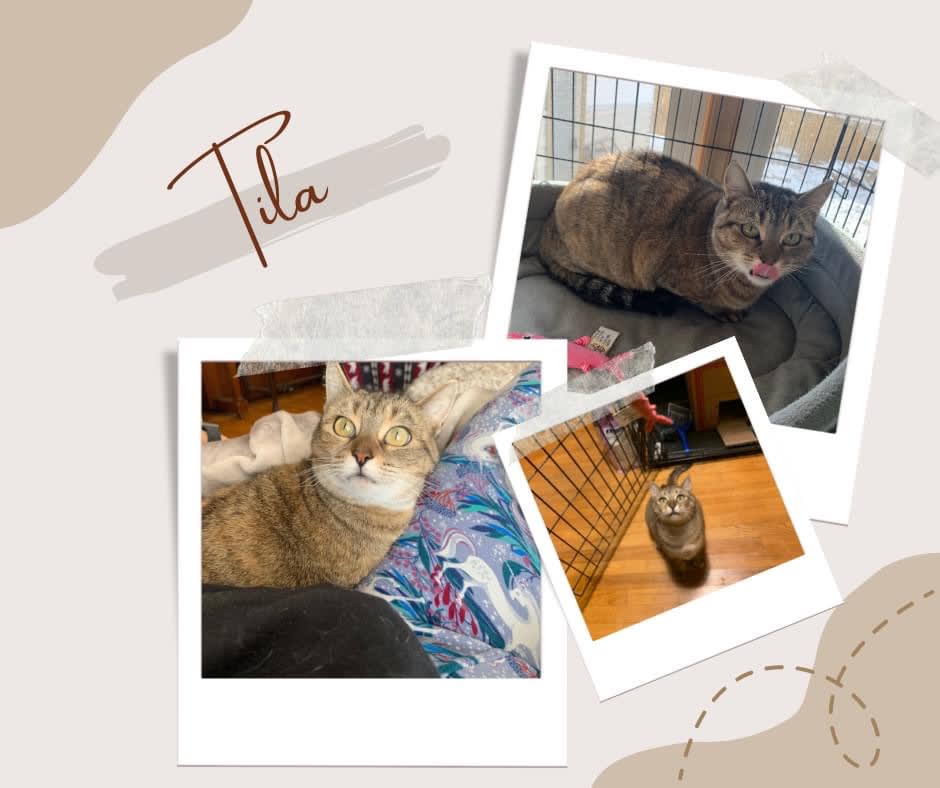 *** Please note that we are NOT accepting applications for the cats listed as Coming Soon. These cats have either yet to arrive or have only just recently arrived. Once their foster families get to know them a little better, a detailed bio outlining their personality and describing their ideal home will be posted and we will then begin accepting applications for them. ***
Everyone, meet me! Tila!

I was found as a stray wandering around and had a distended stomach, which made rescuers believe that I was pregnant. I was dewormed and later found to NOT be pregnant, even having fooled the vets! (They think it was because I wanted to stuff my face with kitten food to gain some extra weight for the winter..)

I am a very easy-going cat. I like to sit in the sun and relax. I will sit on your lap if asked to, but only for a little while. Don't worry, if I get bored, I'll go to find my own little corner. Don't be fooled, though! I will play with you if you have a string toy.

If picked up properly I don't mind to cuddle. I do get scared of falling when my feet leave the ground, though. I would not thrive in a home with small children or other animals. I need all of the attention.

I will also need some kind of a scratching post and am a very content cat that loves to be pet. I am very quiet, but can be vocal when I want something.

If you would like to be considered as our furever family, you can apply through our website by clicking this link: https://www.petsaliveniagara.ca/site/blog/2022/01/07/adoptable-cat-tila

ALL INQUIRIES REGARDING ME MUST BE EMAILED TO petsalivecats@gmail.com.

Adoption Fee | $ 99

The feline adoption fees help cover the costs associated with rescuing, such as vetting, food, kitty litter and other expenses.

Prior to adoption, cats are spayed/neutered, vaccinated, microchipped, dewormed and given flea treatment. In short, they receive any necessary treatment. Immediately following adoption, they are eligible for one month of free pet insurance. 
For more information about adoption fees, please review our Adoption FAQs & Fees page. alternatively, you can email us and communicate with our Adoption Coordinator: petsalivecats@gmail.com.
Why We Love Fostering
There is a special joy in seeing the transformation from fear to trust in a foster cat's face and posture, the first time they relax and warm up to me. There is so much comedy in a litter of crazy kittens, rollicking and tumbling, learning how to be big cats. Each foster kitty has been cared for as if they were my own, and I enjoy the confidence in the feeling that they are ready for their forever home. That is the biggest difference between choosing to adopt from a small rescue rather than a shelter, and why I love volunteering. People often ask me how I can be so strong to let such sweet kitties go to adoption, but the feeling that I have space to help another is worth the emotional goodbye. Penny is the twenty-first cat I have helped, and I am not going to stop anytime soon! Fostering for Pets Alive is by far the most rewarding volunteering I have ever done.
Why We Love Fostering
The thought of cats and kittens missing out on a loving home is one big reason as to why I foster. I thoroughly enjoy watching homeless cats go from being afraid of their own shadow, to throwing themselves at you with all their pent up love. It is so hard to see the cats/kittens leave once they are ready, but knowing someone has adopted a once abandoned sweetheart is the best feeling ever.
Interested in Adopting Tila? Apply Below.
Incomplete applications cannot be accepted. Pets Alive Niagara reserves the right to reject any application and reserves the sole right in determining the best placement for our animals.
PLEASE NOTE: WE CANNOT APPROVE ADOPTIONS TO APPLICANTS THAT LIVE OUTSIDE OF CANADA.


We want to thank everyone who applied to adopt!  We have closed this application, but we do have other great pets looking for a forever home, click here to meet them!