Buck
Male | 3 yrs | 36 lbs | Hound mix
Good with adults? Yes
Good with kids? Yes
Good with dogs? Yes
Good with cats? Unknown
House trained? Yes
Crate trained?  Yes
Energy Level? High
Barker? No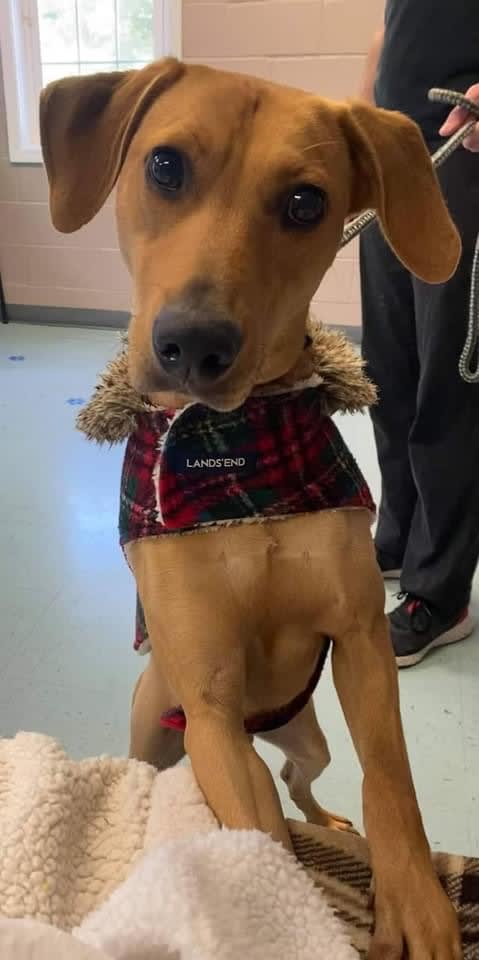 *** Please note that we are NOT accepting applications for the dogs listed as Coming Soon. These dogs have either yet to arrive or have only just recently arrived. Once their foster families get to know them a little better, a detailed bio outlining their personality and describing their ideal home will be posted and we will then begin accepting applications for them. ***
About Buck
Buck is in search of love with everything he does. He likes to jump into the arms of adults, steal kisses from children, and plays affectionately with other dogs.

Buck likes to be near humans most of the time, although he does go lie by himself on the couch during quiet times. He needs a bit of manners training; jumping and basic commands, and will need someone that will work on him with chewing items that are not his toys.

Buck's specialty is giving hugs and kisses, his signature snoring, and playing well with others.

Buck is a hurricane of kisses. With smaller children (toddler age), he can be a bit strong and persistent and they don't know how to control him or push him away effectively. Other than just being motivated to show his love, we have seen no signs of aggression or anything that would worry us with children.
Per Buck's foster pawrents…
I believe Buck would do well in a home with lots of activity. Being a high-energy dog, he needs lots of attention, snuggles and possibly even other dogs to tire him out!

His family will need to be dedicated to teaching him some basic manners and stay consistent with training him. Once he is trained and settled into a new home with a routine and house rules, he'll be a five-star companion. We really love Buck!
Adoption Fee | $500
Adoption fees help cover the costs associated with rescue, such as vetting, boarding, and transportation.

Prior to adoption, dogs are spayed/neutered, vaccinated, microchipped, and 4Dx tested, and they receive any necessary treatment. After adoption, they are eligible for one month of free pet insurance.
For more information about adoption fees, please review our Adoption FAQs & Fees page.
Why We Love Fostering
Fostering gives me the opportunity to share a journey with an animal who has no one else. Without people like me these dogs may not get a second chance at feeling safe and finding a stable, loving forever home. I remember each of them vividly and we have a special bond.
Why We Love Fostering
Fostering opens you up to helping so many incredible animals. The dogs we have fostered all had different personalities, needs and quirks. We remember them all fondly. We love fostering because it is more flexible than most people would imagine. We can decide when to take a dog (so family vacations are easy to plan), what size (under 70lbs for us) and PAN is amazing at matching us with dogs that fit our needs.
Interested in Adopting Buck? Apply Below.
Incomplete applications cannot be accepted. Pets Alive Niagara reserves the right to reject any application and reserves the sole right in determining the best placement for our animals.
PLEASE NOTE: WE CANNOT APPROVE ADOPTIONS TO APPLICANTS THAT LIVE OUTSIDE OF CANADA.
We want to thank everyone who applied to adopt!  We have closed this application, but we do have other great pets looking for a forever home, click here to meet them!