Pelee
Applications Closed
Male | Retriever mix | 3 yrs old | 50 lbs
Good with adults? Yes
Good with kids? Yes
Good with dogs? No
Good with cats? Unknown
House trained? Yes
Crate trained?  No
Energy Level? Medium
Barker? On occasion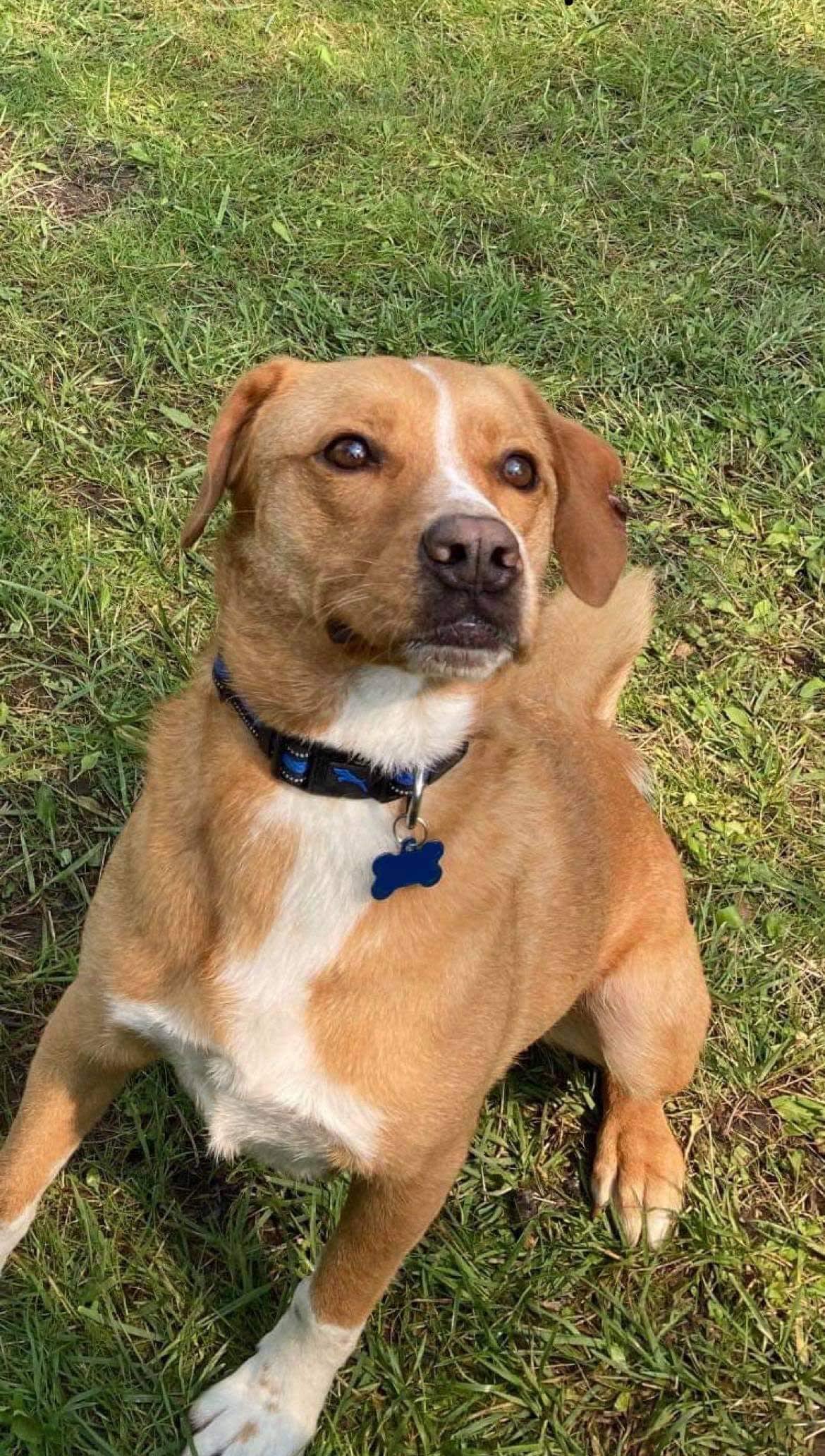 *** Please note that we are NOT accepting applications for the dogs listed as Coming Soon. These dogs have either yet to arrive or have only just recently arrived. Once their foster families get to know them a little better, a detailed bio outlining their personality and describing their ideal home will be posted and we will then begin accepting applications for them. ***
About Pelee
Pelee came to us after his owner unexpectedly passed away. He is a sweet dog that can initially be timid, but he warms up quickly. He loves attention and seems good with kids, but we think older children would be best for him.

Pelee would love an active family to take him for lots of walks. He's very good on leash. He does pull, when he sees a squirrel or rabbit, but who can blame him?! Due to Pelee's strong prey drive and preference for being the only dog, a home without any other animals would be best.

Pelee has been through a lot of change recently and is showing some signs of separation anxiety. He would love to be adopted by someone who can be home quite a bit and would be willing to help him work through his anxiety. He's a very good boy and desperate to be someone's best friend again!
Adoption Fee | $500
Adoption fees help cover the costs associated with rescue, such as vetting, boarding, and transportation.

Prior to adoption, dogs are spayed/neutered, vaccinated, microchipped, and 4Dx tested, and they receive any necessary treatment. After adoption, they are eligible for one month of free pet insurance.
For more information about adoption fees, please review our Adoption FAQs & Fees page.
Why We Love Fostering
It has been so lovely to have an animal with us again. We have noticed a boost to their mood. It is great to be able to open our door to an animal in need, it is very rewarding watching the kitty make progress with us and coming out of their shells. Pets Alive have been very helpful with any issues, and we never feel like we are alone if we need help.
Why We Love Fostering
I love animals and believe they all deserve a chance at love and having a happy home. Fostering has been my biggest reward in life.  Often seeing these dogs go from shy, frightened, unsure, abused, and/or neglected, to the most loving, happy, and grateful family members. People always ask how I do it, but how can I not? Is it hard to let go?  Of course, it is. But it's not about me – it's about getting these dogs into furever homes. When I see updates from adopters, nothing makes me happier. I trust Pets Alive to get these homes for my fosters, and when they leave me, sure I miss them, but it means I can take another one into my home. In all, I have fostered roughly 53 dogs.  That's 53 souls that otherwise, may not be alive today.
Interested in Adopting Pelee? Apply Below.
Incomplete applications cannot be accepted. Pets Alive Niagara reserves the right to reject any application and reserves the sole right in determining the best placement for our animals.
PLEASE NOTE: WE CANNOT APPROVE ADOPTIONS TO APPLICANTS THAT LIVE OUTSIDE OF CANADA.
We want to thank everyone who applied to adopt!  We have closed this application, but we do have other great pets looking for a forever home, click here to meet them!