At Pets Alive Niagara, it is our policy to not make our black cats available for adoption during the month of October. But it may not be for the reason you think.
The Black Cat Adoption Myth
Throughout history, black cats have been associated with witchcraft, Halloween, and all things spooky and mysterious. For this reason, there is a pervasive misconception that black cats are in danger during the Halloween season because they are more likely become victims of abuse or ritualistic sacrifice during this time of year.
Many animal rescues choose not to make their black cats available for adoption in October for this reason.
While we would never discount the possibility of animal abuse out of hand, this is not the main reason Pets Alive does not complete adoptions for black cats around Halloween. 
The Facts
While cats of all colours have been victims of abuse at the hands of superstitious and ignorant people for as long as they have been domesticated, there is no conclusive evidence (read: confirmed statistics, court cases, or studies) to support the idea that black cats are singled out for these kinds of crimes around Halloween, or indeed at any other time of the year.
A Cautious Approach
At Pets Alive, we do not offer our black cats for adoption during October for the same reason that most rescues do not adopt out bunnies during Easter, or any animals at all to people who intend to give them as Christmas gifts. It's this: there are far too many people out there who see animals as expendable accessories or props that can be dispensed with once the novelty wears off.
We're just not willing to risk any of our animals going to families that are not 100% committed to welcoming them into their homes as life-long companions.
While our applicants have to pass a rigorous screening process to be approved for adoption, we take this additional precaution during this time of year to make absolutely sure that our black cats find their forever homes.
---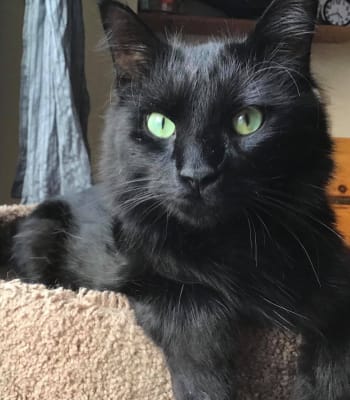 Meet Oscar! | 3-Year-Old Male
This gorgeous gentleman is Oscar, and he is waiting patiently for his forever home. Oscar is loving and social. He adjusted very quickly to his foster family and settled right in. He loves to be held, pet and he loves to chat with his foster parents.
Oscar is interested in toys and catnip, but prefers to play with someone than on his own. He is quite content sitting and looking out the window or curled up on his foster mum's arms, watching tv. He is ready to be a companion for someone looking for a feline friend.
Oscar will be available for adoption again starting November 1st, so be sure to submit your application if you're interested!
---
We appreciate your patience and understanding regarding out black cat adoption policy during the month of October. To learn more about our adoption protocols, as well as fees and other considerations, read our FAQs page, or contact us for more information.